Registrado: 30 Oct 2008 19:23
Mensajes: 2471
Ubicación: Burgos.
Al hilo de la afición de
Franco Corelli
por algunos papeles de tenor lírico -asunto que se mencionó en el foro hace unos días-, traigo por aquí una de sus óperas predilectas:
La Bohéme
de Puccini, título que abordó por primera vez en el Met y que cantó hasta el final con la compañía, siendo la ópera que ocupa el quinto lugar, por número de funciones (34), en su ranking metropolitano. Han sobrevivido varias grabaciones piratas de Corelli cantando Rodolfo, acompañado de grandes sopranos (Tebaldi, Kabaivanska, Pilou, etc.), y un broadcast algo tardío (1974) junto a Montserrat Caballé. Menos conocida es la grabación de su debut en el papel de Rodolfo, el 29 de febrero de 1964, inolvidable ocasión según la reseña de John Ardoin en la revista
Musical America
:
"The February 29 "La Bohème" is one of those performances that will be talked about for many years. Everything clicked and produced that special brand of magic and excitement that radiates from a superbly sung performance of a favorite like "Bohème." Franco Corelli sang his first Rodolfo anywhere, and never at the Met has he seemed so at ease and so convincing. His was no wooden-Indian portrayal. He looked the part and moved with ardor and spirit. Then too it was wonderful to hear a lusty Radames-Manrico voice in the part. Far from being overly heroic, Corelli's singing was wonderfully virile, and the emotions of the final act combined the exact amount of sobbing and singing. For my money there hasn't been such a Rodolfo since Björling.

Another first at the Met was Gabriella Tucci's Mimi. If Mr. Corelli was all masculinity, Miss Tucci was the essence of fragility. Some reservations had been lodged in this corner about her return this season in "Trovatore," but the tentativeness that marred her Leonora was absent at this "Bohème." Her singing was impassioned and glorious in sound. She added a touching bit of business in Act I which was typical of the general way in which she underplayed her characterization and cleared away many years of cobwebs which have accumulated on the part. Being seated during "Che gelida manina," she began "Mi chiamano Mimi" quietly in her chair and told her story in a gentle way. But at "Ma quando vien lo sgelo," when Mimi sings of thawing snow and the return of spring and the sun's warmth, Tucci rose slowly from her chair, raised her arms and moved to the footlights as she released a flood of glowing sound which sent rays of warmth through the Met. Like Mr. Corelli's, Miss Tucci's trim form was as visually convincing as her lovely voice, and together they created a pair of lovers rare in "Bohème" annals, I am sure.

Elisabeth Söderström sang her first Musetta of the season, adding another stellar element to the cast and stressing again for me, her incredible versatility. The other Bohemians (Frank Guarrera, Bonaldo Giaiotti, William Walker) joined into the high spirits which swept through the performance, and the cast was completed by Fernando Corena's marvelous Benoit and Alessio de Paolis' equally marvelous Alcindoro. In fact, Mr. de Paolis almost stole Act II away from Miss Söderström with his irresistible byplay and appropriately bumbling characterization. The only element of the evening that was not in a class with the general proceedings was the sloppy work of the chorus, but even this could not dampen this great evening at the Met. Fausto Cleva conducted".
Una crítica menos entusiasta, pero también favorable, se publicó en el
New York Times
el 2 de marzo de 1964:
"'BOHEME' AT MET MARKED BY FIRSTS; Corelli Heard as Rodolfo—Gabriella Tucci ls Mimi

The season's 10th performance of "La Boheme" at the Metropolitan Opera on Saturday night was anything but routine. In the cast were Franco Corelli, singing the part of Rodolfo for the first time anywhere; Gabriella Tucci, singing her first Mimi with the company, and three artists singing their roles for the first time this season—Elisabeth Soderstrom as Musetta, Frank Guarrera as Marcello and Alessio De Paolis as Alcindoro.

Mr. Corelli was—well, Mr. Corelli, but this time with a Puccini score to back him up. After a few strained opening phrases, the tenor was able to turn his voice loose, with the result that he offered some striking, beautiful vocalism at many points during the evening, even if there was no artistic subtlety to it.

As handsome as ever, he made a sincere effort to enter wholeheartedly into the dramatic action, joining valiantly in the Bohemian high jinks and enjoying an emotional outburst at the end of the opera that must have been soul‐shaking even in the last row of the Family Circle.

It was Miss,Tucci's Mimi that gave the evening its warmest glow. The soprano does not have the most seductive of voices, but—barring a couple of off‐pitch notes—she put it to affecting use in many an exquisite phrase. Slim and lovely to look at, she created a whole character, now shy, now pathetic, now ecstatic, always believable.

Miss Soderstrom's Musetta may well be the most interesting at the Metropolitan, since she resolves the seemingly disparate elements in the part. She was good‐humored, rather than shrewish or waspish; she even treated Alcindoro with offhand affection. Thus Marcello's love for her became understandable; so did her concern for Mimi in the last act. And it gave her anger in the third‐act quarrel with Marcello more depth than usual.

Mr. Guarrera never seems to stop adding to his portrait of Marcello. Its completeness and vocal smoothness on this occasion were admirable. Mr. De Paolis's Alcindoro remains one of the great characterizations at the Metropolitan; time does not dim its luster.

William Walker at Schaunard, Bonaldo Giaiotti as Colline and Fernando Corena made strong contributions to the performance. All the singers could be grateful that Fausto Cleva was conducting. He protected their musical interests without letting the score lose its unity or momentum".
Para recordar aquella histórica función de
La Bohème
, enlazo el cuarteto del acto tercero, con un Corelli de canto matizado y acorde con el lirismo del momento:
Corelli, Tucci, Guarrera & Söderström. "Dunque è proprio finita?" (Met, 1964).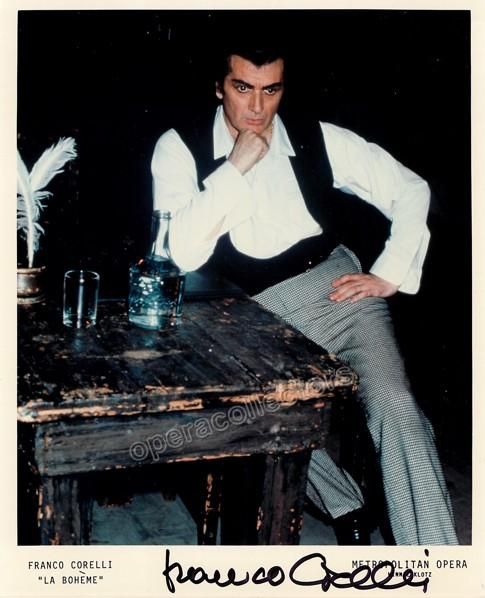 _________________
Anche l' idea muor, tu non muori giammai,
tu, l' Eterna canzon!