El barítono
Richard Bonelli
debuta en el Met en 1932, tras la bancarrota de la Civic Opera de Chicago (donde había cantado con regularidad desde 1925) y en una etapa delicada para las finanzas del teatro neoyorquino. Su presentación con
La Traviata
, tras casi 20 años de carrera en América y Europa, fue un éxito a juicio de las críticas en prensa. Por ejemplo, en el
Syracuse Journal
del 2 de diciembre de 1932 puede leerse lo siguiente:
"Bonelli wins ovations in Metropolitan debut.

Acting and singing ability combined by former Syracuse newsboy.

By John D. Greene.
International News Service Staff Correspondent.

New York, Dec. 2 – The rafters rang at the Metropolitan Opera House last night. They rang when Richard Bonelli making his debut in Verdi's "La Traviata" as Giorgio Germont, lent an amazingly rich and dramatic baritone to his role. They rang several times after young Bonelli's first exit as boxholders, gallery sitters and standees called him back again and again with thunderous applause.
Finally, Rosa Ponselle, in the role of Violeta, had to go off stage and lead the former Syracuse, N.Y., newsboy to the footlighs before the opera could continue.
Critics, enthusiastically acclaiming last night's "Traviata" as a glamorous performance, were quick to give full credit to the Young american baritone, who made his debut in it.
Bonelli is the seventh singer and the fourth of american birth to make his first appearance at the Metropolitan during the current season, now 10 days old.
As Germont, Bonelli's presence was engaging and dignified. As he progressed in his role the packed house became aware of the big range and adroit utterance which made the american baritone a favorite of operagoers in Chicago during his six years with the Chicago Civic Opera Company.
Operatic connoisseurs pointed out that Bonelli the artist supplements Bonelli the vocalist, and that hidden behind the rich, ringing baritone stanzas was a faithfulness to detail amazing in a comparative beginner.
It was pointed out that while many baritones can send a high F ringing through the house, as Bonelli did last night, few are capable of projecting mezza-voce and piano passages with the purity of line which Bonelli gave, for instance, to "Di Provenza il mar", a passage which sent an electric thrill through the audience.
Perhaps the most striking personal tribute of the evening was that give to the american-born Bonelli when several italians, viewing the performance from among the standees in the back of the auditorium, shouted at the conclusión of the first act: "Bravo, Dick!".
Gatti-Casazza, director of the Metropolitan Opera Company, announced after the performance that while there has been some demand for Bonelli to appear in American roles which he popularized in Chicago, the Young baritone will be saved to appear chiefly in french and italian opera".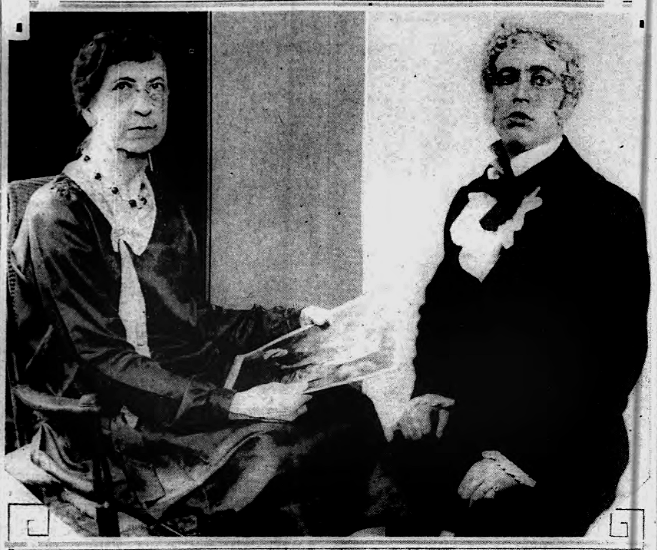 Ida H. Bunn, madre de Richard Bonelli, y el barítono ataviado como Germont.
Syracuse Journal, 4 de diciembre de 1932.
Bonelli permaneció en el Met hasta 1945, compaginando sus apariciones allí con las de San Francisco (donde cantó con frecuencia en el período 1926-1942) y con su regreso a una resucitada Ópera de Chicago en 1936. Como curiosidad, antes de dedicarse al canto, Bonelli, muy aficionado a los coches, desempeñó una gran variedad de trabajos, como señala el periódico
Buffalo Courier-Express
en un artículo de 1928:
"He was born in Port Byron, this State, and moved to Syracuse when three years old. He had to help in the family finances when he was nine years of age. Newsboy, bundleboy, circulation clerk (of the Syracuse Journal), solicitor of magazine subscriptions, farmer's helper in harvest time, bank messenger, bookkeeper, telephone accountant, pushing a lawn mower in a cemetery, auto mechanic's helper, accident insurance investigator and zinc miner –there were some of the professional jobs which kept the future opera star busy during the years when he was going to school. He won a scholarship in Syracuse University, and entered there as a mechanical engineer".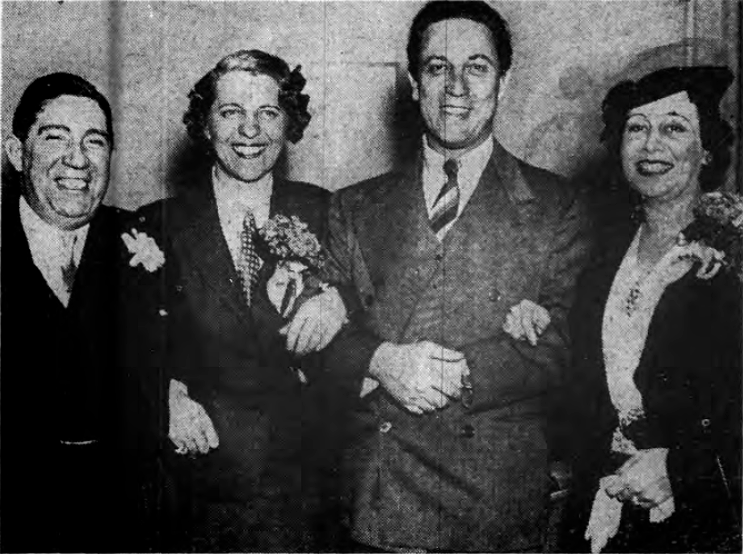 El empresario J. Allen Fusca, la contralto Myrtle Leonard, el barítono Richard Bonelli
y la soprano Virginia Rea en el Hotel Statler de Buffalo, durante un acto promocional.
Buffalo Courier-Express, 16 de marzo de 1936.
Volviendo al Metropolitan, el papel que más veces cantó con la compañía fue el Valentin de
Faust
(21 funciones). Richard Bonelli tuvo una relación especial en esta ópera, con la que debutó el 21 de abril de 1915 en la Academy de Brooklyn y que mantuvo en repertorio hasta el final de su carrera, ofreciéndola en numerosas ciudades norteamericanas. Bonelli participó en la transmisión radiofónica (parcial) de este título desde la Ópera de Chicago (21 de enero de 1927), junto a Charles Hackett (Faust), Vanni Marcoux (Méphistophélès), Edith Mason (Marguerite), dirección de Giorgio Polacco y comentarios de un joven Milton Cross, histórico evento para el que se emplearon un total de 15 micrófonos. Una semana después aparece en otro broadcast, esta vez con fragmentos de
Il Trovatore
. Algunas de sus interpretaciones como Valentin fueron reseñadas en prensa, como la que tuvo lugar en el Consistory Auditorium de Buffalo, de gira con la Civic Opera de Chicago (
Buffalo Courier-Express
, 12 de febrero de 1929).

"Richard Bonelli's superb baritone voice and his abilities as a singing actor enabled him to bring the role all the virtues that go to make up an artist. His eloquent vocal presentation of the Dio Possente, and the moving intensity of his work in the death scene brought him deserved approbation. Every phrase was delivered with a smooth velvety legato and beauty of tone that was the result of admirable vocal technique".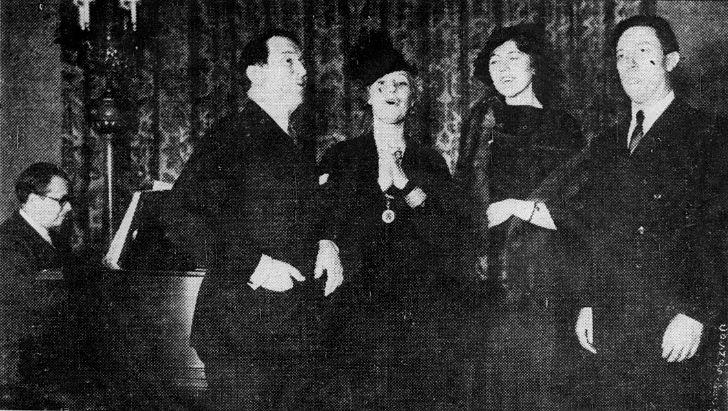 El Metropolitan Opera Quartet (Edward Johnson, tenor; Grace Moore, soprano; Rose Bampton, mezzo y Richard Bonelli, barítono)
durante un concierto en el English Theatre de Indianapolis.
The Indianapolis Times, 27 de marzo de 1934.
Afortunadamente, se conserva un broadcast metropolitano, poco conocido, del 20 de marzo de 1937, gracias al cual podemos valorar las cualidades del barítono estadounidense en el papel de Valentin. Como muestra, el aria "O sainte médaille... Avant de quitter ces lieux".
Richard Bonelli. "O sainte médaille... Avant de quitter ces lieux" (Met, 1937).
Otro papel que acompañó a Bonelli durante casi toda su carrera fue Enrico Ashton de
Lucia de Lammermoor
. En el Met lo cantó en 7 ocasiones, sobreviviendo para la posteridad la transmisión radiofónica del 3 de febrero de 1940. La grabación está colgada en YouTube; pero, al igual que ocurre con las ediciones discográficas de Great Opera Performances (1998) y Cantus Classics (2004), aparece interpolada la voz de otro barítono en un breve fragmento del aria "Cruda, funesta smania", en concreto en la frase "Fora men rio dolor!".
Papi, Pons, Jagel & Bonelli Live: Donizetti: Lucia di Lammermoor (New York 03-02-1940).
El CD "Opera stars sing on radio, vol. II" (The Radio Years, 1995), que incluye un par de fragmentos del Enrico de Bonelli, no presenta este problema, aunque están cortados el recitativo inicial y el coro "Come vinti da stanchezza", previo a la cabaleta "La pietade in suo favore".
Richard Bonelli. "Cruda, funesta smania... La pietade in suo favore" (Met, 1940).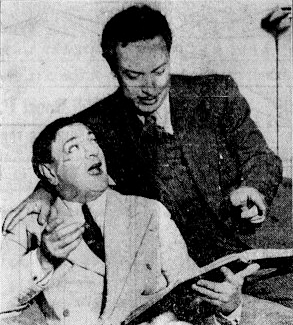 Tito Schipa y Richard Bonelli ensayando Manon para la Ópera de San Francisco.
Calexico Chronicle, 13 de octubre de 1939.